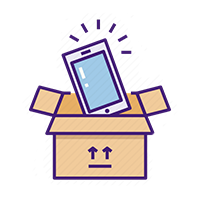 What's Included ?
Your device
Sim removal Tool
Safety - certified charger
Certified Cable
Glass Screen Guard
Back case
This product works and looks like new. Backed by a 180-day warranty by Cell Fone Deals
This pre-owned product is not Apple certified, but has been professionally inspected, tested and cleaned by our professional engineers.
There could be tiny visible cosmetic imperfections when held at an arm's length.
This product will have a battery which exceeds 80% capacity relative to new.
Accessories may not be original, but will be compatible and fully functional. Products may come in generic Boxes.